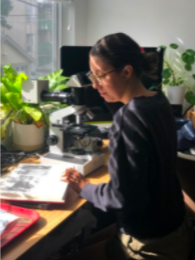 My name is Sage Vanier and I am from small town in northern British Columbia, Canada. Growing up, I was always passionately curious about history and the lives and actions of past people. For a long time, I thought of the past and the present as completely extraneous dimensions. However, after completing my undergrad at the University of British Columbia, interning for the provincial government of British Columbia, and working with Tsleil-Waututh First Nation's archaeology department for a summer I began to think about the interconnectedness of past and future. This journey has led me to pursue a graduate degree in archaeology at Simon Fraser University in Vancouver, Canada.
My research interests did not fully crystallize until I started to acknowledge and explore my Indigenous heritage after years of neglect. My mother had been teaching me our Tsimshian teachings my entire life: the relation of all things, reciprocity, respect, and gratitude, but I often shunned my indigeneity in order to fit in. It was not until university that I started to learn more about traditional resource management practices and became keenly interested in how these deep wells of place-based knowledge can be a tool for planning more sustainable futures.
Currently, I am working in partnership with the Sts'ailes First Nation in southwestern British Columbia. The Sts'ailes inherited the right and responsibility to steward their natural and cultural heritage from a long lineage of ancestors stretching back to time immemorial. Now, the contemporary Sts'ailes community wishes to not only protect but enhance their natural and cultural resources. My Masters research is focused on past-human plant interactions, the persisting ecological legacies that these interactions leave on the landscape today, and how this data can challenge and inform current archaeological theory and practice. Equally importantly however, my research seeks to emphasize the concept of the cultural landscape, a place that has shaped and been shaped by continuous human influence. Approaching the study of traditional resource and environmental management practices through this lens can help to dispel the colonial notion of "untouched wilderness," a perspective that effectively serves to unpeople landscapes and erase deep histories. Similarly, it emphasizes that humans are not separate from nature – humans have played an integral role in shaping ecosystems for millennia.
Finally, as a complement to my MA project, I am working with the Sts'ailes First Nation to develop and implement an ecological restoration plan for forest garden ecosystems within their traditional territory. Not only will this collaborative project help to reinvigorate the landscape in a way that benefits culturally important plant species, but it also aims to revitalize traditional Sts'ailes practices, strengthen the community, and promote the intergenerational transmission of knowledge.