Integrating Historical Data and Approaches into Oyster Management
About this Working Group:
In the United States, the eastern oyster (Crassostrea virginica) is an economically, culturally, and ecologically important oyster species that ranges from Maine to Texas. Eastern oyster populations are managed by a variety of federal, state, and local governments as well as nongovernmental organizations operating at scales from the local watershed to internationally. In addition, the long history of oyster harvesting and coastal land use change in the United States, and asynchronous fluctuations in abundance across the species range due to diverse pressures (e.g., hydrological changes, pollution, disease, overharvesting), combined with often scarce historical monitoring records documenting the timing and magnitude of the changes, have challenged oyster applied professionals for well over a century. Several studies have demonstrated the potential utility of historical data sources (e.g., maps, fisheries records, archaeological middens, fossils) to inform oyster management. However, actual use of historical data to support oyster conservation and resource management decisions is still rare.
The Oysters Past working group brings together academic researchers (conservation paleobiologists, archaeologists, and historical ecologists) and applied professionals tasked with conserving, managing, and/or restoring oyster populations and habitat to: 1) identify priority research directions for academic researchers by evaluating the information needs among applied professionals and the types of information from the past that may be able to address them; and 2) build trust and commitment to promote long-lasting and sustained collaboration between academic researchers and applied professionals.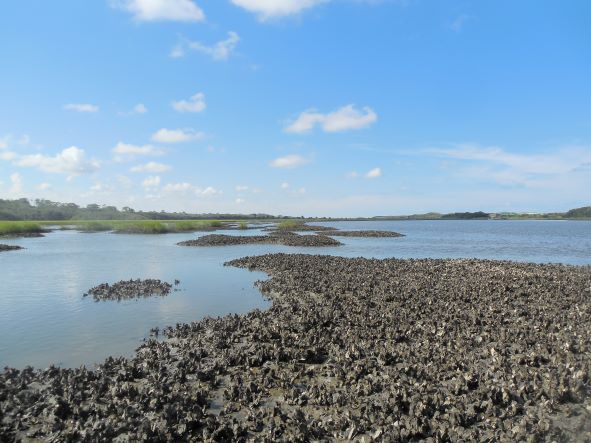 Image caption: Intertidal oyster reefs at low tide in the Guana River Marsh Aquatic Preserve, north of St. Augustine, Florida (photo credit: Florida Department of Environmental Protection).
Confirmed Participants:
Heidi Alleway – University of Adelaide/The Nature Conservancy
Anne Birch – The Nature Conservancy
Carolina Bourque – Louisiana Department of Wildlife and Fisheries
Nicole Cannarozzi – University of Florida
Allison Colden – Chesapeake Bay Foundation
Gregory Dietl (PI) – Paleontological Research Institution/Cornell University
Stephen Durham (PI) – Florida Department of Environmental Protection
David Grunden – Town of Oak Bluffs, Massachusetts (retired)
Carla Hadden – University of Georgia
Chad Hanson – Pew Charitable Trusts
Peter Kingsley-Smith – South Carolina Department of Natural Resources
Megan La Peyre – United States Geological Survey/Louisiana State University
Rowan Lockwood – College of William & Mary
Julieta Martinelli – University of Washington
Matthew McKenzie – University of Connecticut
Bonnie Newsom – University of Maine
Jason Peters – North Carolina Department of Environmental Quality
Jaleigh Pier – Cornell University
Eric Powell – University of Southern Mississippi
Mark Rath – National Oceanic and Atmospheric Administration Sea Grant
Torben Rick – National Museum of Natural History
Bill Rodney – Texas Parks & Wildlife Department
Antonio Rodriguez – University of North Carolina
Christopher Schillaci – National Marine Fisheries Service, National Oceanic and Atmospheric Administration
David Schulte – U.S. Army Corps of Engineers
Victor Thompson – University of Georgia
Eric Weissberger – National Oceanic and Atmospheric Administration Restoration Center
Philine zu Ermgassen – University of Edinburgh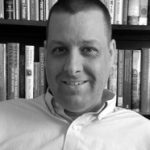 Greg Dietl
Paleontological Research Institute
Dept. of Earth Atmospheric Sciences
Cornell University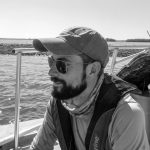 Stephen Durham
Florida Department of Environmental Protection
About CPN Working Groups: The Conservation Paleobiology Network (CPN) sponsors working groups focused on research questions that integrate conservation paleobiologists, academic partners, wildlife managers, and stakeholders to develop effective strategies for translating products of historical research into conservation and management actions. Each working group includes meetings to develop approaches to research or applications. Working groups should engage key interest groups (conservation paleobiologists, archaeologists, environmental historians, federal and state management officers, and stakeholders) and contribute to the broader mission of the CPN of establishing conservation paleobiology as both a basic and applied discipline. Outcomes may include publications or other products developed by working groups, tutorials and lectures contributed to the CPN webinars, and/or proposals to funding agencies to support further activities. The working group panel oversees solicitation, selection, development and assessment of working groups.